The radio fuse on the Chevrolet Silverado controls more than just the radio.  It also controls the warning chimes, and it is part of the security system.  Although it might be nice to avoid the constant dining nanny that his the chime, it can get old living without a radio.  So where is the radio fuse located on a Chevy Silverado/GMC Sierra?
Most people are going to find their way here because they are looking under the dash and can't find the radio fuse location.  The problem is that the fuse isn't under the dash.  It's under the hood.  Since the radio is tied to the security system, maybe that makes it more difficult to steal the truck.  There is a fuse panel on the driver's side.  It pops right off and you'll find the fuse there.  The odd location of the radio fuse throws off a ton of people.  It's actually really easy to get to under the hood.  It certainly beats trying to bend under the dash with a flashlight.
Finding the GMT 800 Radio Fuse Location
The first step is going to be popping the hood.  You're going to be looking for a black box.  Once you pop it open you'll see the fuse block and a schematic.  It should look similar to the one presented here.  The fuse is clearly labeled radio, so there'll be no confusion.  I've highlighted it.  This example is from a gas-powered 2007 Silverado "Classic".  It should be in about the same spot regardless of what year your Silverado is.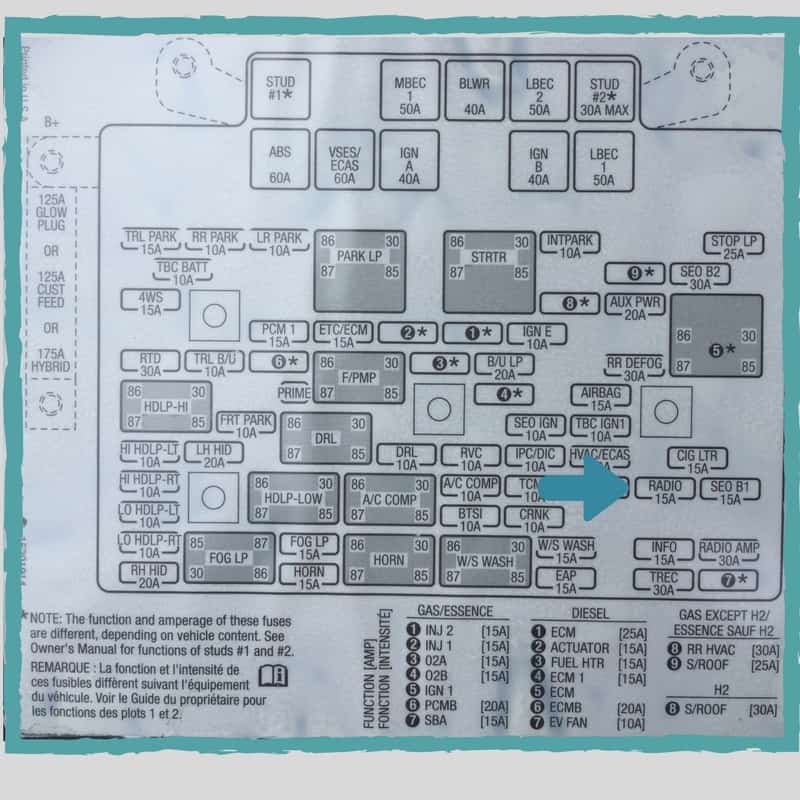 Other Applications
The GMT800 platform was huge and incorporated many vehicles.  The radio fuse should be in the same location for the Chevrolet Express, Chevy Avalanche, Hummer H2, Chevy Tahoe, and Chevy Suburban as well.