The 4L80E is a computer controlled transmission and the successor to the TH400.  Identification of the 4L80E is pretty easy. If you use the process of elimination, there are only a few transmissions that it can be.  The transmission itself has been around since 1991, and the case has changed a bit like the 4L60E/700R4 twins.
The 4L80E  is essentially a TH400 with an overdrive gear added.  The are both legendary for their bulletproof reliability straight from the factory.  Their specs are similar, although the 4L80E is a few inches longer, which means you'll need to get a new driveshaft if you were to swap one for the other.  They both have the same forward gear ratios, only the 4L80E gets the overdrive gear of course.  That overdrive gear is not as aggressive as the overdrive on the 4L60E.   It is a very heavy transmission.  In fact, it's 27 pounds heavier than the 4L60E.
4L80E Transmission Specs
 
Manufacturer:  General Motors
Production:  1991-2005
Type:  4 Speed Automatic, 6.2 quart capacity (standard models)
Gear Ratios:
First-  2.48
Second- 1.48
Third- 1.00
Fourth-0.75:1
Reverse- 2.07:1
Input Shaft:  32 spline
Torque Converter Lock:  Yes
Overdrive:  Yes
Case Length:  32″Different applications had different lengths due to different tail shafts/transfer cases.  Use this diagram to help you.
Outer Case Material:  Aluminum
Controlled by Computer:  Yes
Weight:  187 pounds without the converter
If you were to look at them side by side it would be a no brainer which one is which.  The thing is massive.  In fact, it is so much larger than a 4L60E, TH350, etc that it will often require a larger tunnel size than your car may allow.  That is why it is important to measure your tunnel size if you are going to be doing any sort of swap.  If you are looking to swap a 4L80E into a muscle car, this article from Hot Rod is a good read.
4L80E identification- the easy way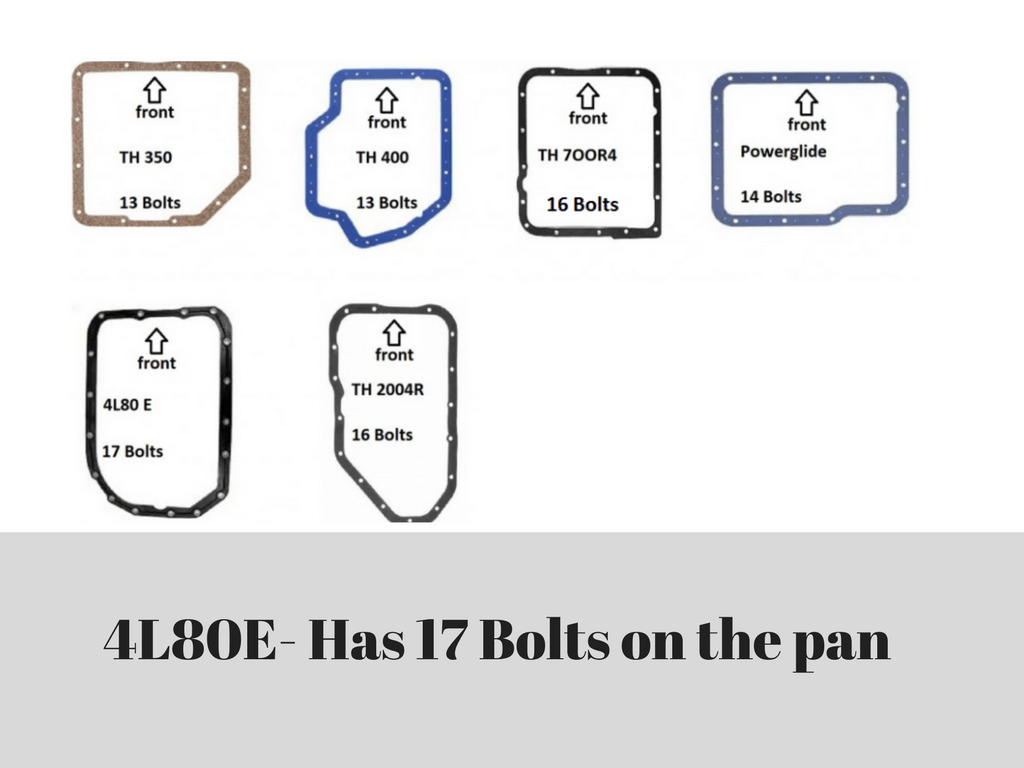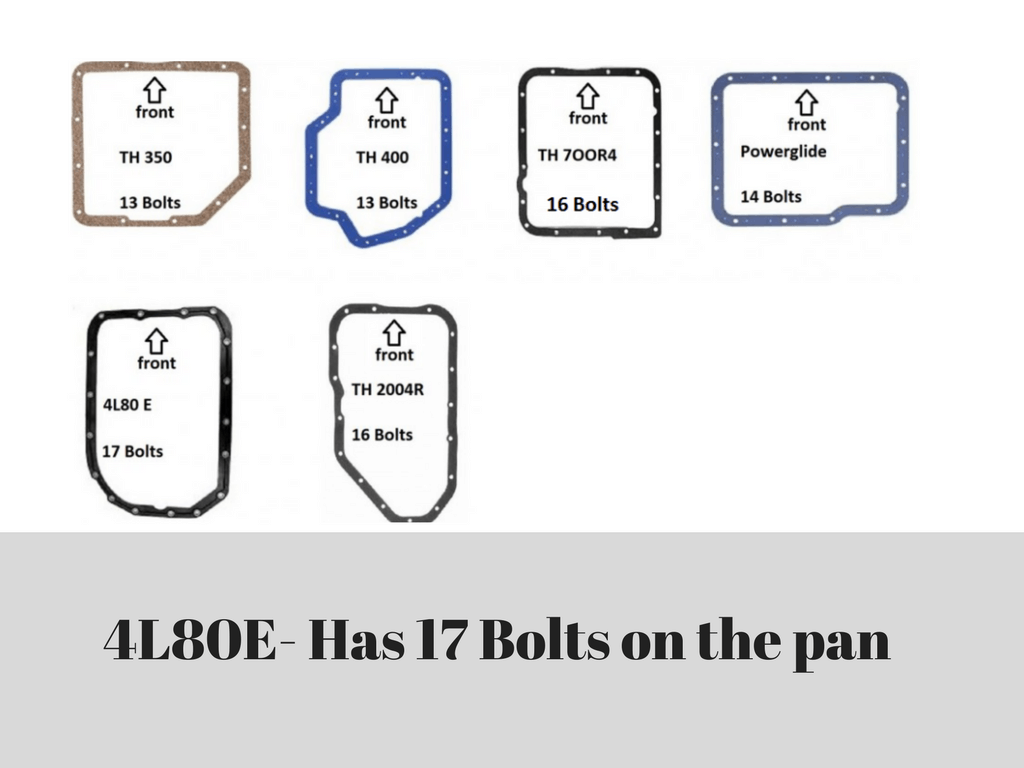 [the_ad id="1070″]
With all GM longitudinal transmissions, it is far and away easiest to identify them by the amount of bolts on the transmission pan.  Only the TH350 and TH400 share the same number of bolts.  So if you count the bolts and get 17 you can be sure that you have identified the 4L80E transmission.  The 6L80E, which is the successor to the 4L80E, has 20 bolts.
If you are looking at a transmission and you don't even really know where to start, you can look at whether or not it has any sort of computer control to it.  At this point you see that it is computer controlled, you'll find a circular wiring harness connector.  You've now eliminated all of the classic gm automatic transmissions.  That's going to narrow it down to the 4L60E, the 4L65E (identical to the 4L60E on the outside), the 4L80E itself, and the 6L80E.
Hope this helps.
Here are some articles you may find useful:
4L60E VS 4L80E Differences    -or-  4L80E Transmission Problems