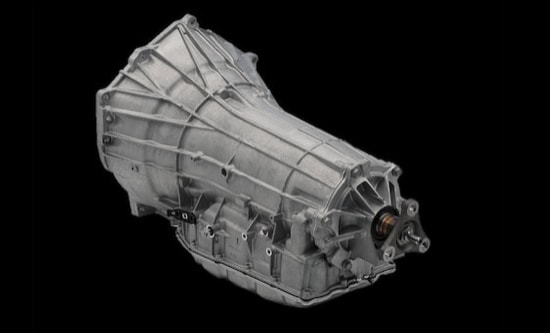 The 8L90E is an 8 speed automatic transmission developed by General Motors and introduced for the 2015 Model year.  It is currently phasing out the 6L80/6L90 transmissions (although it hasn't done its all the way yet.  Structurally, the 8L90 is similar to the 8L45, except that it is made to handle more power and torque.
It is an incredibly advanced transmission and has the technology to perform at a high level in the Corvette, while at the same time being cost effective enough to use in high volume production.
The addition of two extra gears over the previous generation 6L80 was necessary to meet ever tightening Federal fuel economy laws.  The addition of the two extra gears allows the 8L90 to realize a real world 5% fuel economy improvement over the 6L80.
Navigation
8L90 Gear Ratios

1ST
4.56
2ND
2.97
3RD
2.08
4TH
1.69
5TH
1.27
6TH
1.00
7TH
0.85
8TH
0.65
Reverse
3.82
8L90E Specs
Like most GM automatic transmissions that have come before it, the 8L90E has an aluminum case, overdrive, and can handle a lot of power.  Through a combination of lightweight materials and wizardry, GM engineers were able to get the 8L90 to weigh in a couple of pounds less than the 6L80E, and keep it roughly the same size.
The max power and torque specs bump up a little when it is put behind the LT1/LT4 engines.  There's more on this specific version of the transmission below.  Or use this link to take you there.
8L90 Specifications

RPO Code
M5U
Manufacturer
GM
Production Years
2015+
Number of Gears
8 forward
Maximum RPM
7000
Max Torque
635 lb-ft
Max Horespower
650
Max Transmission Torque
738 lb-ft
Length
Case
2 Piece Aluminum
Computer Control?
Yes, External TCM
Weight
210+ Pounds
Max Shift Speed RPM
7000
Max GVW
13,200
Max GCVW
20,500
Tourqe converter
258mm, locking
ATF
Dexron High Perormance
8L90 Performance
The 8L90 has four different gears sets and five clutches.  This allows for extremely tight shifts in a relatively small space.  The 8L90 offers a true manual paddle shifting experience.  And unlike the the Corvettes rivals at Porsche and Ferrari, the 8L90 also goes to work in pickup trucks.  Thats a lot of range to engineer into one transmission.
All models come with adaptive shift control
Highly efficient axis binary pump
Performance algorithm shifting
Performs like a clutches gearbox in manual mode
Redline shift protection
Utilizes VFS to monitor clutch pressure for more precise shifts
Adapts to wear and tear and compensates electronically
Paddle shifting
Grade control
LT1 + LT4
The 8L90E is the transmission GM chose to put behind the ultra high performance LT1 engine.  There are a few minor differences between the standard version and the LT1.
Max Torque is increased to 644 lb-ft
Gear ratios stay the same
LT1 uses a slip yoke design
LT4 uses a fixed yolk design
Identifying an 8L90E
The easiest way to determine if your vehicle is equipped with an 8L90 is to utilize the RP0 codes.  They can be found in the glove compartment of the vehicle in question.
You'll want to find the code M5U.  That is proof positive that the vehicle in question was at a minimum equipped with the 8L90 from the factory.
8L90E Applications
Since the 8L90 has only been available for a few model years(production started in 2014 for the 2015 model year). It is not utilized in many vehicles.  It is only used in high performance vehicles and performance cars, otherwise the 8L45 is more than enough for the job.
Make and Model
Model Years
Final Drive Ratio
Notes
Cadillac Escalade [2]
2015–2017
3.23

Chevrolet Corvette (C7) Stingray [3]

2015–present

2.41
Standard
2.73 (Z51)
Z51
Chevrolet Corvette (C7) Z06 [4]
2015-current
2.41

Chevrolet Silverado/GMC Sierra[5]

2015–present

3.23
Standard
3.42
Towing Pacage
GMC Yukon Denali/Denali XL
2015–2017
3.23
Cadillac ATS-V
2016–present
2.85
Cadillac CTS-V
2016–present
2.85
Cadillac CT6
2016–present
3.27
Chevrolet Camaro
2016–present
2.77
Chevrolet Colorado/GMC Canyon[6]
2017–present
3.42