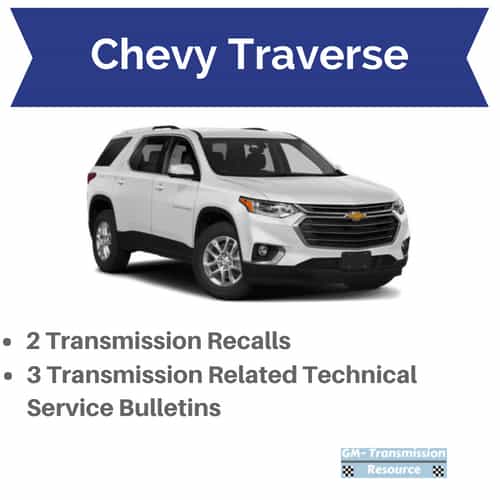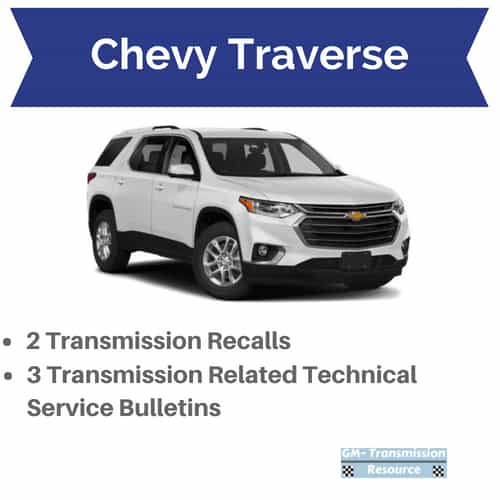 The Chevy Traverse has been in production for over 12 years now.  The first generation was a full size SUV and ran from 2007-2016.  The second generation Traverse has been in production for a few years now.  That's long enough for there to be quite a few older models with transmission problems.
The goal of this article is to be a resource that will help you understand what may be wrong with your Traverse.  There are two main sections to this article:
Traverse Specific Transmission Problems
General Transmission Problems + Diagnosis
The Traverse specific section deals with recalls and TSB's (Technical Service Bulletins).  The general problem section deals with common Traverse problems.  This is a great way of doing research on potential transmission problems, since there needed to be enough examples of something going wrong for GM to make a public record of it.  This record would help mechanics diagnose the problem quickly.
After that, the next section has an emphasis on the 6T75 and 6T70's (these are the transmissions they come with) most common areas of weakness.
What transmission is in the Chevy Traverse?
The transmissions used in all Traverse models are:
2007-2016:       6T75
2017-Present:   6T70
The 6T75 and 6T70 were both transversely mounted 6 speed automatic transmissions.  Like all modern GM transmissions, they are controlled by electronically.  They don't have an E on the end like other GM automatic's because they never really existed in a time when transmissions weren't controlled this way, therefore they do not require this designation.
These transmissions are the product of a joint venture between Ford Motor Company and General Motors.  Some of the earlier models did have some inherent weakness that would cause them to fail prematurely.  There's more on that below.
Traverse Transmission Recalls+ Technical Service Bulletins
There have been a few transmission recalls on the Chevrolet Traverse.  They are listed below.  Both of them involve the shift linkage coming out of adjustment.  This leads to potential roll away situations.  The affected years are 2014 and 2009.
Technical service bulletins (TSB's) are an acknowledgment of a common problem by the manufacturer.  They are sent out to all of the authorized dealers for the vehicle and are a great source of knowledge when trying to troubleshoot an Traverse's transmission.
2014 Traverse  Recall 14V092000
The Traverse was recalled for an issue with the transmission shift cable adjuster well… getting out of adjustment.  The dealer is required to inspect and replace when appropriate the shift cable adjuster on all 2014 models.
If left unchecked, eventually the shifter indicator will no longer be accurate.  Eventually, the transmission may even lose the ability to go into park at all.  But, the gear selector will still slide into the park position, which makes the 2014 Traverse a roll away hazard.
The General Motors recall number for this problem is 14048.  Go ahead and give your GM dealer a call and see if this has been performed on your particular Traverse.  With the VIN number and that recall number, you'll be able to schedule the free repair.
2014 Traverse:  TSB 13120A
Some 2013 Traverse's may have a problem with the torque converter staying locked.  When the vehicle comes to a stop this causes the engine to die, much like rolling to a stop in a manual transmission vehicle would.  When the torque converter is locked, there is a true 1:1 connection between the motor and the rest of the driveline.  This means that the torque converter can't slip, which in turn means that the engine cannot idle at all.
This is a problem with the TCM, which is the computer that controls the transmission.  You'll need to have it re-flashed.  Your local GM dealer can do that for you.
2009 Traverse:  Recall 09V073000
This is another one year only recall.  It is for an issue similar to the one listed above.  In this one, the 2009 Traverse shift adjustment cable may get loose.  Once it gets loose the shift indicator may show that it is in park when it's in one of the moving gears or in reverse.  This means that any 2009 Traverse that has not had this recall performed is a potential roll away risk.
Being that the 2009 Traverse is about a 10-year-old vehicle, this recall may very well have already been performed on your particular vehicle.  It's still worth giving GM a call and seeing if it has been performed.
The recall number is 09041.  You can give GM that number and you VIN and they'll be able to tell if it has come in for that recall or not.  In the meantime, you would be wise to set the parking brake when you park.  It's better for the transmission to do that anyway.
2009 Traverse:  TSB PIP4668
This is one of the stranger TSB's on this list.  That's because it covers a wide range of symptoms.  The reason why it is such an eclectic list is because the problems are caused by the TCM and not any physical part going bad.  If you are experiencing any of these issues, it may be time to take your Traverse into the dealer and have the computer re-flashed.
Poor shift feel
Hesitation when turning right (not left)
Hesitation during the 2-3 shift, but only under light throttle
Nonlinear deceleration/tachometer swing on 5-4 down shift and coast
Cruise control "busyness"
Basically, if you have a 2009 Traverse, and the transmission is acting like it is possessed, go ahead and bring it in to have it re-flashed.
2007 Traverse:  TSB 09-07-30-012B
This Technical Service Bulletin covers a wide range of problem that are caused by a faulty 3-5-R clutch wave plate.  The problems associated with this plate going bad include:
No Reverse
Harsh shifts in 3rd and 5th gear
Slipping transmission in-between shifts
When this plate goes bad, it allows the piston to leak and not properly apply the gears.  And since this plate covers 3rd, 5th, and reverse only those gears are affected.  You'll also get a service engine soon light for this particular issue.
Troubleshooting Common Chevy Traverse Transmission Problems
There have been a few Traverse transmission recalls over the years, and quite a few Technical Service Bulletins.  The TSB's and recalls are a great way to figure out what transmission problems that the Chevy Traverse might be having.  That's because they are the problems that are so prevalent that the manufacturer needed to make the information public.  That's always the best place to start your diagnosis.
If you have looked through the bulletins listed above and still haven't quite found what you were looking for, we'll cover some of the most common 4T70 + 4T75 transmission problems right here.
Backup Camera
Bad shifter alignment can cause the Traverse backup camera to stop working.
Overheating
The 6T70 is known to overheat.  This is typically caused by a faulty circuit, and not an actual problem with the radiator/cooling system.
Slipping Gears
There are TSB's listed above that do cover slipping gears, but other issues can still cause slipping.  All transmissions wear out eventually.  The Traverse transmissions are no different.  The problem is usually caused by a bad planetary gear or a bad solenoid.
No Reverse
This happens quite a bit and is caused by a bad solenoid.
Transmission Won't Shift
Often the transmissions in the Traverse will stop shifting.  This is caused by a bad torque converter or brake switch.
Conclusion
Most of the common problems that occur with the Chevy Traverse's transmission are related to electronics and how they are controlled.  The one nice thing about that is the dealer can fix it by hooking in a laptop a lot of the time.  Good luck with your particular Traverse!