How to Use Apple Carplay in the Toyota Tacoma
Whether running errands, commuting to work, or taking a road trip, using Apple Carplay in your Toyota Tacoma makes driving more convenient. Using a smartphone for features like playing music and navigation apps is the norm, so it is best to do it safely to prevent potential driving distractions.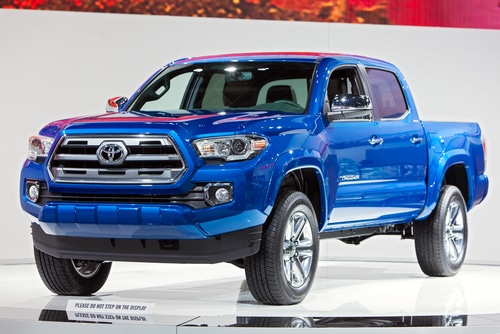 If you're considering using Apple CarPlay, but don't know where to start, you've found the right article. Apple CarPlay has many benefits like driving hands-free, making Bluetooth phone calls, Siri voice commands, GPS navigation, setting reminders, audio streaming, and more.
If you are trying to figure out how to use your Apple CarPlay in the Toyota Tacoma, keep reading for our step-by-step guide.
---
Enabling CarPlay 
To begin, you will need to enable the Carplay feature on your phone and in your Toyota Tacoma. 
Enable CarPlay on Siri and iPhone
To get started, you need an iPhone 5 or newer with iOS 7.1+ to use Apple CarPlay in the Toyota Tacoma. First, enable CarPlay and Siri on your iPhone. Then, select enable on the "Press Home for Siri" option under "Siri & Search" in settings.
If you don't see CarPlay or Siri & Search under your iPhone settings, check Settings > Screen Time > Content & Privacy Restrictions > Allowed Apps to ensure both CarPlay and Siri & Search are enabled.
Enable CarPlay in Toyota Tacoma
Enable Apple CarPlay in the system settings first. To do this, choose Menu > Setup > General, and turn on Apple CarPlay. 
---
How To Set Up Apple Carplay (Step-by-Step)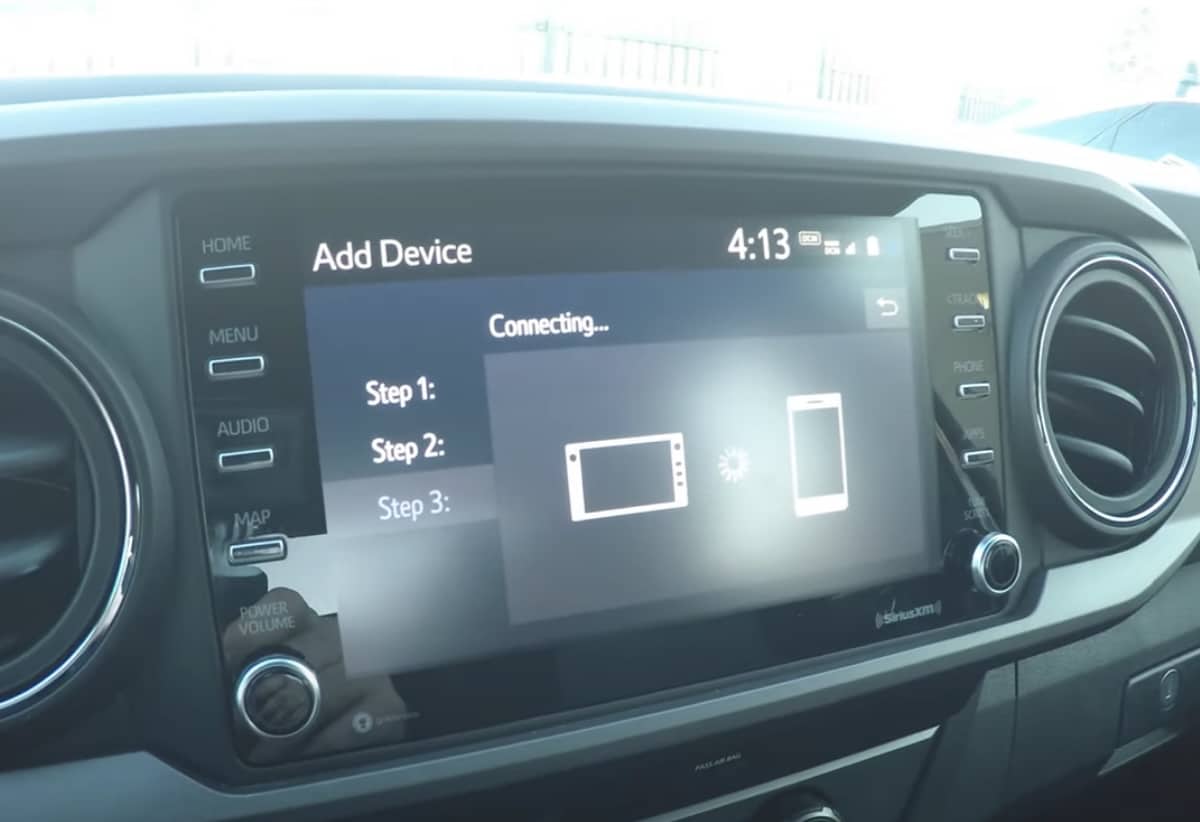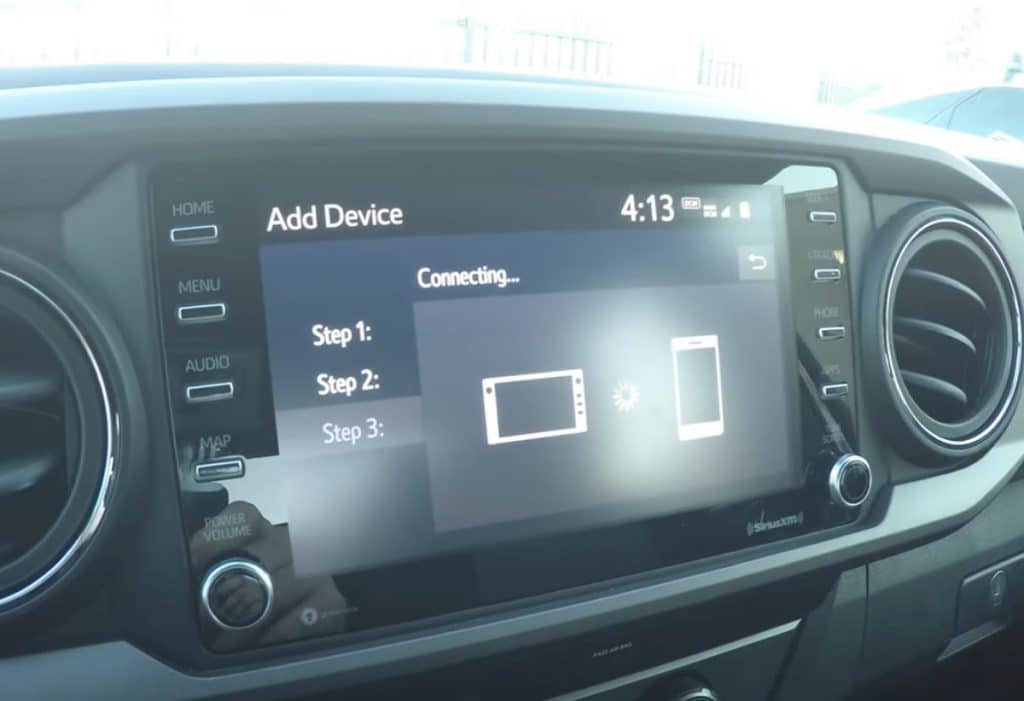 Here's a step-by-step guide on how to set up Apple CarPlay in your Toyota vehicle:
Activate Carplay in your phone's settings.
Connect the iPhone to your Tacoma using Bluetooth (Settings > Bluetooth).
Select "Apple CarPlay" on the Toyota touchscreen.
Press Menu > General > Apple CarPlay.
Once you connect the USB cable, the Apple CarPlay will be ready.
---
Why Is Apple Carplay Not Connecting? (Step-by-Step)
If you are trying to connect Apple CarPlay to your vehicle and it doesn't detect your mobile device, there are some steps you can take to activate this feature:
Have the latest version of iOS on your device. If your phone has a version of iOS that is older than your Tacoma, that can cause compatibility problems).
Check that Bluetooth is turned on on your iPhone.
Confirm your CarPlay stereo has the latest firmware from Toyota.
Ensure Siri is on.
Make sure CarPlay is not in restricted mode. (To check, go to Settings > Screen Time > Content & Privacy Restrictions, and tap Allowed Apps).
---
Troubleshooting Your Apple Carplay Connection (Step-by-Step)
While the section above is for connecting CarPlay to your Tacoma for the first time, this section covers how to restore a lost connection.
There are several ways to troubleshoot the Apple Carplay Connection and regain connectivity to the vehicle if you are having issues. Try the following:
Make sure Siri is on.
Restart your iOS phone device and your vehicle. When CarPlay starts, you will see the CarPlay home screen or a logo on the vehicle display.
Connect your iPhone or iPad to a different USB port in your vehicle.
Try a different Apple Lightning to USB cable if possible. If that fails, try a different Apple cable.
Update the iOS on your device to the latest version.
Check your Toyota car owner's manual for other instructions from the manufacturer.
---
Tacoma Models that Support CarPlay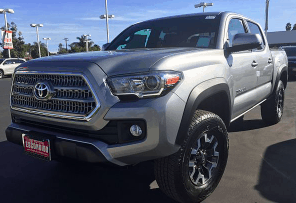 Toyota Tacoma Models starting from 2020 and later are compatible with Apple CarPlay. You can always buy an aftermarket head unit if you have an older model.
---
Frequently Asked Questions
Below you will find answers to frequently asked questions related to Carplay in the Toyota Tacoma.
Are All Apps Compatible with CarPlay?
Not all iPhone apps are compatible with your Toyota Tacoma with CarPlay. Unfortunately.
Apps are limited or come with restrictions, particularly for messenger. When using a map app, the most recent one will display on the tri-view screen.
The following apps are compatible with CarPlay in your Tacoma, including but not limited to:
| | |
| --- | --- |
| Navigation | Google Maps, Apple Maps, Waze |
| Music | Apple Music, Spotify, Pandora, TuneIn, Youtube Music, Amazon Music, SiriusXM app |
| Audiobooks | Audible, Apple Books |
| Podcasts | Podcasts, Spotify, Youtube Music |
| Messaging | Messages, Telegram, Whatsapp |
| Other | Calendar, News, Phone, Toyota (used to return to the stock interface) |
How do I use Google Maps on CarPlay?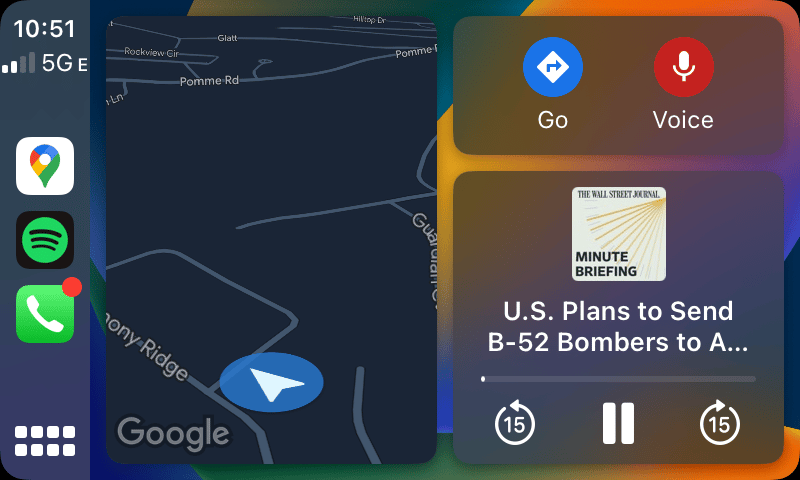 If your iPhone has the latest operating system (iOS 16+), you'll be able to find Google Maps on your Tacoma's Apple CarPlay. Open CarPlay on your car dashboard, and Google Maps should be available as an icon.
It will replace Apple Maps on the music/navigation screen.
How do I use Waze navigation with CarPlay?
To use Waze in CarPlay, you need a compatible iPhone and a car that supports CarPlay.
If you don't have the app already installed, you'll need to download it from the App store. After that, just start your CarPlay system and launch the app by clicking on the icon. You'll find support and more information on Google's Waze webpage.
---
Can I use Spotify?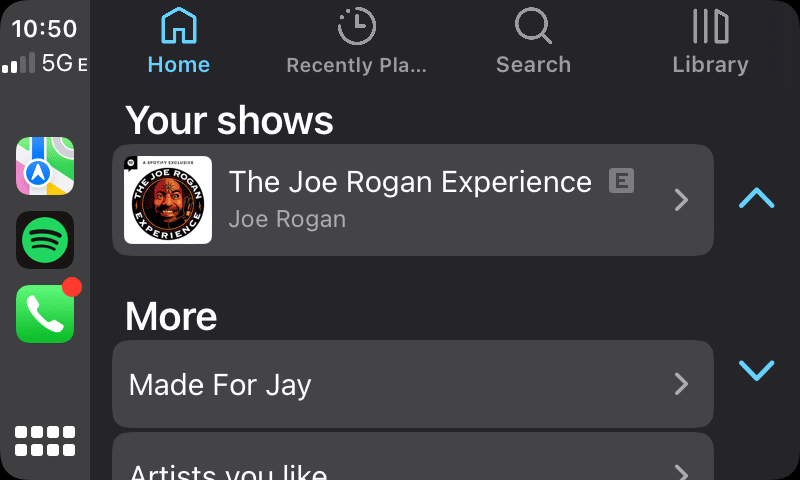 Yes, you can use Spotify with CarPlay in the Toyota Tacoma. When you first activate CarPlay, it may default to Apple Music (if installed), but once you click the Spotify Icon, you'll be able to use it just fine.
If Spotify is on your iPhone, it'll be in your CarPlay. Touch the little button in the bottom left corner, and you'll see the available apps. Click Spotify, and you're in.
If you don't see Spotify, you'll have to access the App store on your phone, search for Spotify, and download it. Once the download is complete, an icon will appear on the home screen.
By using Siri and voice commands, you can start listening to music without having to use your hands.  You can ask Siri to play your favorite music, albums, artists, podcasts, playlists, and more. You can always use your fingers on the touchscreen to use Spotify when driving your Tacoma.
How do I enable the "do not disturb while driving" function?
To activate the "Do not disturb while driving" function in your Toyota Tacoma, follow the steps below:
How do I sort apps in CarPlay?
To sort CarPlay apps, do the following steps:
Go to Settings > General > CarPlay
Choose your car in "MY CARS."
After that, you can put the apps in a different order