2006 is the first model year for the Chevrolet Trailblazer where every single unit manufactured didn't come with the 4L60E.  That's due to the introduction of the Trailblazer SS, which needed a more powerful transmission and got one in the 4L70E.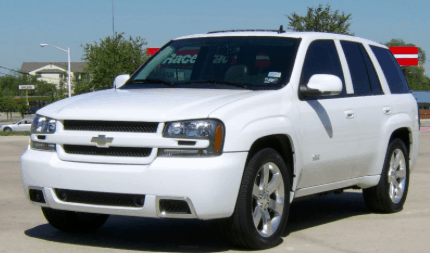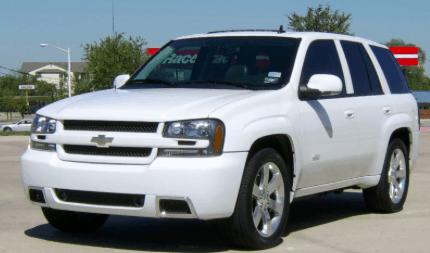 2006 Trailblazer Transmission Fluid
Capacity
The Transmission fluid capacity on a 06 Trailblazer is 12.1 quarts.  Regardless of which engine comes in the truck they all have the same capacity.  This includes SS.
Now just because the capacity is 12 quarts doesn't mean that you should put that much in there when you change the fluid.  You'll never get that much out.  You'll be lucky to get half.
A good way to insure that the transmission is not overfilled is take an old 5 qt oil container and put your drained transmission fluid in there.  Now you can measure how much came out and put them same amount back in.  Before you start, ensure that the transmission is full.  If it isn't, plan on putting more in than you take out.  Otherwise, you'll start low and end low.
If you don't have an oil container like that just be careful not to overfill.  Start with a couple quarts and don't plan on putting more than 5 or 6 in unless it was low to begin with.  Here's a whole forum discussion on the matter from TrailVoy.
06 Trailblazer Transmission Fluid Type
The recommended transmission fluid for the 2006 Chevy Trailblazer is Dexron Mercron VI.  It is the recommended fluid for vehicles that had any previous Dexcron version.  It's fully synthetic.
ACDelco GM Original Equipment 10-9243 Dexron VI Full Synthetic Automatic Transmission Fluid - 1 qt
Backward compatible with previous Dexron automatic transmission fluids and can be used as a much-improved replacement for older vehicles/transmissions originally using previous Dexron fluids
Improved performance over previous Dexron fluids in: friction durability, viscosity stability, aeration and foam control, and oxidation resistance
Potential to enable improved fuel economy and longer transmission life
Provides for extended drain intervals
Trailblazer SS Transmission
The 2006 Trailblazer SS uses a high performance version of the 4L60E known as the the 4L70E.  This beefed up transmission was necessary due to the increased power that the LS2 V8 put out.
Strength adding features to the Trailblazer SS's transmission include (but are not limited to):
Manual shaft improvement
Internal Mods Switch replaced NSBU
Internal wiring changes
3-2 Downshift solenoid delted
Improved Valve Body
Here's more on the 4L70E, including all of the differences between it and the 4L60E.
2006 Trailblazer Transmission Issues
The 4L60E and 4L70E transmissions are incredibly reliable.  They offer relatively trouble free service on the '06 Trailblazer.  There really aren't any Trailblazer specific issues that you're going to find.  Below, we'll cover some basic troubleshooting.  The problem will be in bold and potential solutions under it.  For more info on 4L60E troubleshooting, check out 4L60E Transmission Problems.
Going into Gear
If your Trailblazer won't go into gear at all, it's usually an indication that the shift actuator is out.  Alternatively the linkage could be jammed.  It's usually a pretty good be that the shift actuator has gone bad over the linkage.  That is unless you have recently changed the transmission.  Below is a great youtube video that'll help you get unstuck.  There is a way.  I didn't make this video, but it's short and informative.
Transmission Light
Often the service engine soon light will go on if there is an issue with the transmission.  You can take it into Napa or AutoZone and they'll tell you what the trouble codes are for free.  For more on diagnosing transmission light issues, check this article out:  What to do When Your Transmission Light Comes On
Fluid Leak
If the fluid is leaking out of your transmission, it can be darn tough to find out where it's coming from.  Sometimes it's easier to degrease the area you are trying to inspect in order to get a better view.  These trucks are getting to be over a decade old, that means it's very likely that seals could be breaking, or that the coolant lines to or from the transmission have gone bad.  Start there.
Trailblazer Won't Move in Any Gear
Definitely the first thing to look at here is the transmission fluid level.  If there's not enough in there to build pressure at the torque converter you're not going anywhere.   It's highly unlikely that the transmission would just "give up" and stop working in all gears at one time do to normal wear and tear.
If the fluid is fine, it might be a good idea to check for a broken shifter or shift linkage.  Does it sound the same when you put it into gear.  Is it giving you more or less resistance?  If something feels different, don't ignore it.
More info:  Automatic Transmission Won't Go in Gear- Troubleshooting, Low Transmission Fluid Signs
Wrapping Up
The 2006 Chevy Trailblazer transmission should give you well over 100k miles of reliable service with little to no problems.  Hopefully, if you do have a problem it doesn't end up being major.  Please leave a comment if you think there's something that should be added or updated.  Thanks!