Clearly, the biggest difference between the TH400 vs 4L80E is the 4L80E's overdrive gear. Although they come from different eras, there is quite a bit that these two transmissions have in common.  The mere fact that people are so interested in this topic is a testament to the absolute bulletproof reputation of the TH400.  There aren't too many other things I can think of where people legitimately question whether the version with 50 years less research and development is the better choice (at least in the world of Auto Tech).
It is entirely possible to bolt one of these transmissions to an engine that came equipped with the other.  Depending on which way you're going it may take a little extra effort, but the parts and aftermarket certainly are there.  There's a ton of information about swapping old school transmissions for the newer stuff here in the LS swap transmission guide.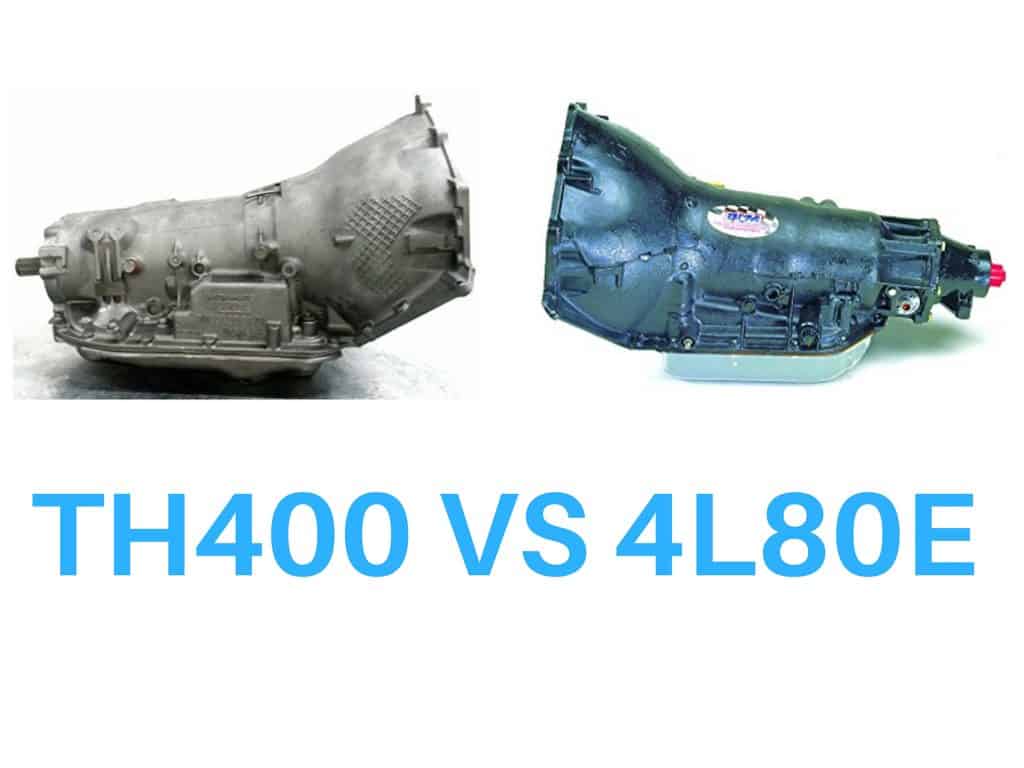 Nearly all of the time people looking to compare Th400 vs 4L80E  are looking at them through the prism of a drag racer.  Which one of these transmissions is going to be better for a drag/super high horsepower application?
Really the answer is either on would be fine.  The Th400 is legendary for its rugged toughness. The 4L80E is it's direct descendant.  Stock 4L80E's benefit from 40+ extra years of research and development.  They also benefit from not being so old.  There are very few clean Th400 transmissions that have never been rebuilt.  Whereas there are great 4L80E's are readily available at the local wrecking yard or on Craigslist.
All things being equal the 4L80E is a much better transmission for most applications.   It's the better choice by virtue of the overdrive gear alone.  There are a few hiccups to putting a 4L80E behind a classic small-block Chevy.  It is totally doable.
There are a few things that you really need to understand if you are to swap one for the other.
The two main differences between these transmissions is the number of gears that they have and the way that they are controlled.
4L80E vs TH400 Gearing
The 4L80E has an overdrive gear with a ratio of 0.75:1.  It's not as aggressive as the 4L60E though, which has a final gear ratio of .70:1.  The 4L80E keeps doesn't drop the engine rpm as much between shifts because it is a heavy duty transmission and assumes that you could very well be pulling a load.  If you drop the engine rpm to hard it can take it right out of the power band.
While the TH400 lacks the overdrive gear of the 4L80E, every other gear is the same.  Here are both transmissions gear ratios.
| | | |
| --- | --- | --- |
| Gear | TH400 | 4L80E |
| First | 2.48 | 2.48 |
| Second | 1.48 | 1.48 |
| Third | 1.00 | 1.00 |
| Fourth | N/A | .75 |
These transmissions combined have gear ratios that are much closer to one another than their respective peers of the time.  For more you may wish to check out:
Differences in the Way TH400 VS. a 4L80E are Controlled
The way that these transmissions are controlled is totally different.  And by that I don't mean how you put them into gear.  I mean how does the transmission know when it's time to shift.  The TH400 uses a kick down cable to downshift, whereas the 4L80E uses a computer controlled shift table.   This presents a problem to people who want to put a 4L80E into a car or truck that doesn't have a computer controlled engine.  The easiest solution is to use a transmission controller to control the shifting for you.
Physical Differences
Both the 4L80E and TH400 are really big transmissions.  The 4L80E is huge.  Anyone considering swapping one into a car that it wasn't originally equipped in should definitely check around the forums and see if anyone has tried the swap yet.  You'll be surprised how many people end up having to beat on their firewall or modify their tunnel in order to fit this beast in their vehicle.
They are also different lengths.  The 4L80E is significantly longer.  It also weighs more than the TH400 as well.  The weight on the TH400 is around 130 pounds, whereas the 4L80E is significantly heavier.  It weighs 187 pounds.  That may not sound like a lot, but when you are on your back trying to manipulate one of them on a transmission jack, there's quite the difference.
T

orque Converter Engagement Depth

You need an adapter to get a TH400 to bolt up to an LS motor properly.  The standard GM bellhousing bolt pattern is used on each transmission, so it's no problem to bolt them up with the adapter.  If you go 4L80E to an old SBC, you'll need a transmission controller.  These are not cheap.  But, there's otherwise no way for the 4L80E to know what the engine is doing and when it can shift.
Conclusion
No matter which transmission you decide to go with, deciding between the TH400 versus a 4L80E is mainly going to come down to what kind of engine you are currently running.  If you want an overdrive solution for an older GM vehicle, I would suggest getting a built 700R4.  It'll be way less hassle and provide the same overdrive, without nearly as much hassle.
See Also:
TH400–  All info on the TH400 this site has in one place.
4L80E specs + identification–  Further info on the 4L80E transmission.