While the Jeep Gladiator looks an awful lot like a Tonka Toy, it does have decent towing chops. The Gladiator uses a "Gross Combined Weight Rating" (GCWR for short). In order to get how much weight you can tow, you must subtract the the full weight of the loaded down truck from the GCRW.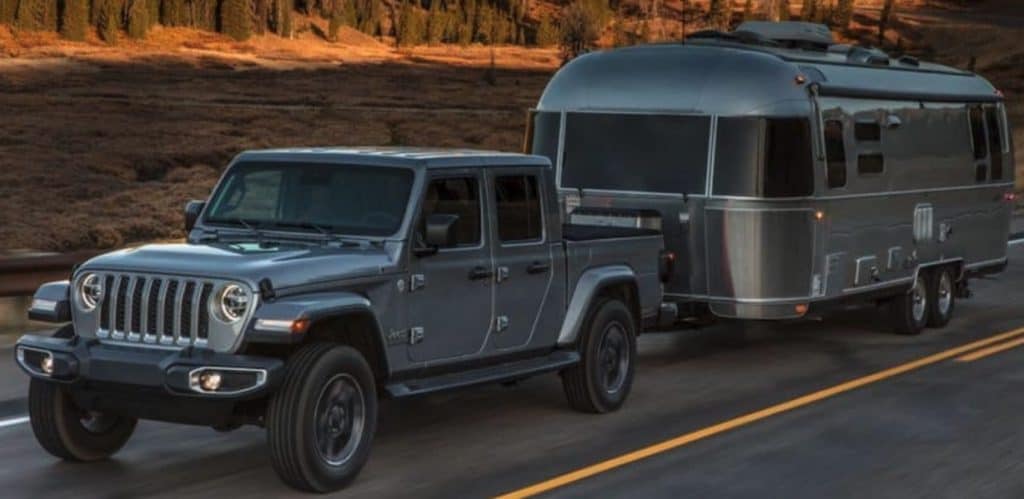 2020 Jeep Gladiator Towing Capacity
Engine
GCWR (Gross
Combined Wt.
Rating)
Frontal Area
Max. GTW (Gross Trailer Wt.)
3.6L
9,100 lbs (4,128 kg)
30 ft2 (2.79 m2 )
4,000 lbs (1,814 kg)
400 lbs (181 kg)
3.6L With Max Tow
12,800 lbs
(5,806 kg)
30 ft2 (2.79 m2 )
7,650 lbs (3,470 kg)
765 lbs (347 kg)
NOTE: The trailer tongue weight must be considered as part of the combined weight of occupants and cargo (ie. the GVWR), and the GVWR should never exceed the weight referenced on the Tire and Loading Information placard. Refer to "Tire Safety Information" in "Servicing And Maintenance" for further information
Source: 2020 Jeep Gladiator Owners Manual Page 354
Notes
There is an option when building a new gladiator to add the "Max Tow" Package. This package almost DOUBLES the amount that you can tow from 4000 lbs to 7650 lbs.
The Max Trailer Tongue Wt. equals 10% of the total towing capacity, and is the measure of how much weight comes down on the rear axles. To lower the max trailer tongue weight, center the load.