While the TH400 and TH350 transmissions may not be in production anymore, but they both still enjoy quite a life in the performance and racing communities.  The shifters that came with these transmissions do not lend themselves well to precise shifting mechanics.  In breaking down which shifter is best, we approached it from the perspectives of would you need to use it primarily for racing, the street, or if you need a budget option.
Most of these transmissions came in older muscle cars or trucks.  If that is the case for you, the column and floor shifters that came in these cars can be woefully inaccurate.  Getting something like a direct shift cable solution from someone like Lokar can certainly help them feel better, but if you want better shifts out of your TH350/TH400 these shifters will totally help you achieve that end.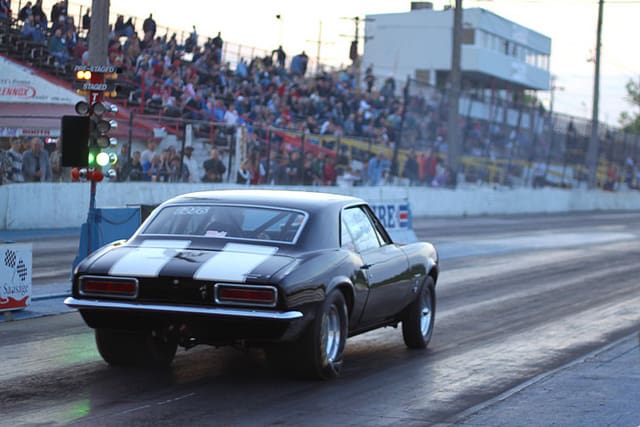 Best TH400 and TH350 Shifter for the Track
What makes a great shifter for racing?
Neutral and reverse lockout
Ratcheting
The last thing that you want to do is miss a gear.  A ratcheting shifter that locks out reverse, neutral, and park will keep you from dropping your transmission on the track.  They'll also provide a much more consistent shift than a stock column or floor shifter.  You'll feel the next gear lock in almost like you are shifting a manual transmission.
Pro Bandit Automatic Shifter:  B & M
The B & M Pro Bandit Shifter is a no-nonsense shifter made for serious drag cars.  It is made out of a 7 pound block of billet aluminum and is bulletproof.  It should be, it's about half a grand.  But, if you need a serious drag shifter, there's no better option on the market.
Pro Stick Magnum: B&M
What's great about the B&M Pro Stick is that it is NHRA compliant at an incredibly affordable price.  It also lilts great too.  It'll work just fine with a TH350, TH400, or even a powerglide.  It has a lightweight and easily removed aluminum cover.
Best TH400 and TH350 Shifter for The Street
When it comes to the best shifter for the TH400 or TH350 on the street, the major consideration is going to be whether or not you need the ratcheting.  If you need a ratchet shifter, one of the of the TH350/TH400 shifters above are going to work just fine.
Hurst V Matic 3 Shifter
If you are looking for something that is going to be a little bit of the best of both worlds, the Hurst V Matic 3 shifter is a great choice for the TH350 or TH400.  It has a ratcheting option where you'll never skip shifts.  It looks great in your car at car shows and can be trusted in bracket racing.
Best Budget Shifter
There are amazing shifters out there for anyone on a budget, especially for the TH350 and TH400.
TCI Fast-Gate
The TCI Fast-Gate is a fantastic piece of no frills equipment.  It's NHRA certified and will be more than up to making sure that you aren't missing any gears.  Although it's not the slickest looking shifter, you really can't go wrong for the price.
Photo Credit:  Jenn Durfey: flickr